Automation is a great way to save time, money and improve business processes. It can help you grow better and run your business better. 
In this post I'll share some of the reasons why automation is important for your business and you'll also know why HubSpot operations hub is an ideal solution for your business.
Let's explore the benefits of automating business processes to make the business operation smooth and hassle-free and take a closer look at the HubSpot operations hub review. 
1. Automation Saves Time.
Automation saves time, and that's because it reduces the number of steps involved in completing a task. 
For example, if you have to input data into a database once a week but there are only two fields on that form, then automation will save you time by allowing these two fields to be populated automatically without any human intervention.
Automation also saves time when it comes to repetitive tasks like doing calculations or sending emails over and over again—it can even automate basic things like sending out yearly reports! 
With the HubSpot operation hub, businesses can create their own "automated workflows" which allow them to quickly complete certain processes themselves. 
Rather than having someone manually input information into various forms each day/week/month etc.
2. It Makes Processes More Efficient
Automation of processes can make them more efficient.
It is a solution that automates a specific business process and replaces human interaction with machines or programs. The benefits of process automation are many, including:
Improved efficiency: Processes are automated so that they can be run as much as possible without manual input or intervention from employees; this reduces the cost associated with maintaining each individual step in the process by eliminating duplicate work, errors and delays caused by humans performing multiple tasks at once.
Increased productivity: Automation allows you to get more done in less time than if you had to do it manually—you'll save time by not having to wait for employees who aren't attentive enough (or perhaps even around) when they need help with their job duties and if something goes wrong during its execution (e.g., an error), then there's no one else left but yourself!
3. It Reduces Human Error
As you may know, humans are prone to making mistakes and the more repetitive a task is, the more likely someone will make a mistake. This can lead to inefficient processes that waste time and money on things that aren't core competencies for your business.
Automated processes allow you to focus on what matters most: delivering results efficiently and effectively—and saving yourself from having to spend time dealing with mundane tasks like data entry or writing reports by hand.
4. It Saves Money
The costs of hiring human resources, physical resources and space are reduced by automating business processes. 
These savings can be significant – for example, it's estimated that by automating some of your day-to-day tasks you could save up to 90% on the cost of hiring an employee!
5. It Improves Customer Service.
Automation can improve customer service by:
Improving the overall experience of your customers. When business processes are automated, the burden on employees to perform those tasks is reduced and they have more time to focus on other areas of the business. This means that your company will have better engagement with its customers, which leads to happier users and increased loyalty.
Helping you stay ahead of competitors when it comes time for price cuts or new products because automation helps you save money without having to hire extra staff members just for this purpose!
6. It Improves Employee Satisfaction.
When you give your employees more time to focus on their work, they feel happier and more productive. This can have a positive impact on your bottom line in the form of increased revenue and reduced costs. 
Plus, it gives them room to explore new skills or develop existing ones that will make them more valuable members of your team in the future (e.g., through training). 
Finally, it allows employees who might otherwise be buried under piles of data to take breaks from their desks at least once an hour—and maybe even twice!
Besides, automation improves productivity. When a task is automated, the same action can be repeated over and over without any human interaction. This allows your employees to focus on other tasks while they're completing their work. 
In addition, if you have processes that need to be run at specific times of day or week, then having them scheduled automatically will help ensure that everyone has enough time for what needs doing during those times.
Why Do Businesses Need a HubSpot Operation Hub to Automate the Process?
In the HubSpot operations hub review let's take look how it helps you automate your business processes. It's a cloud-based platform that lets you manage your business operations, so it's easy to use and powerful enough for any size company.
In addition to being able to create custom workflows, integrate with other apps and automate your business processes through automation rules (which allow users to define actions based on certain conditions).
This tool also provides scheduling capabilities so that tasks are automatically scheduled at specific times throughout the week or month (or even year).
Your HubSpot contacts can now be kept in one single place.
Unified inbox streamlines your communications with all your contacts.
Automated communications and responses to your customers keep them from having to be in multiple places.
Scheduled tasks allow you to plan and schedule routine tasks.
Alerts for new leads, opportunities to track sales leads and deals.
Customizable fields let you add whatever fields you need and make data entry as easy as possible.
Integrations with Google Analytics, Google Spreadsheets, Gmail, Facebook and Twitter.
This makes it easy for you to ensure that tasks are completed on time and within budget.
Key Features of HubSpot Operation Hub
Features are the vital things when it comes to a CRM. In this case, HubSpot operations hub comes with industry-leading features which makes the entire business automation process easier, faster and result-driven.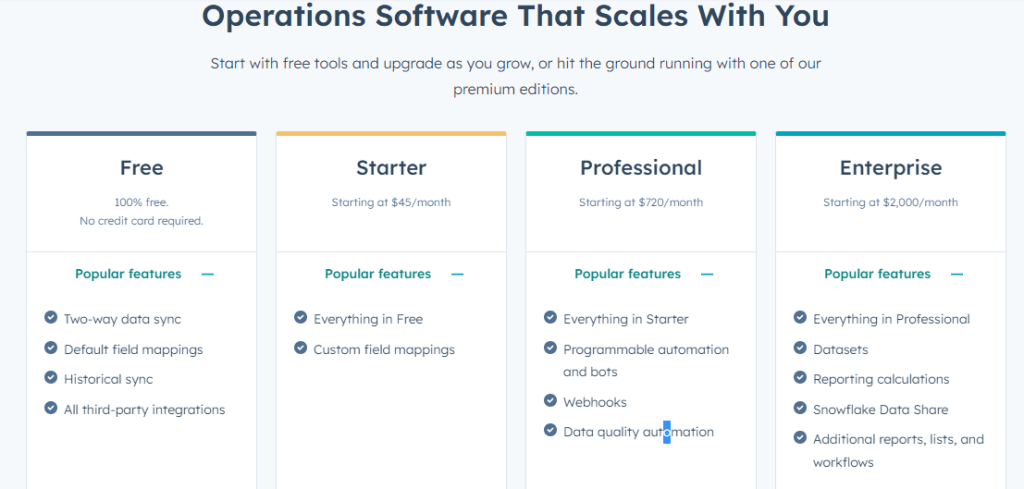 Let's take a look at the key features of the operations hub. 
1. Data Sync
Data Sync is a tool that helps you to sync data between multiple HubSpot instances. It can also be used to sync data between HubSpot and other services, such as Salesforce or Marketo.
Data Sync lets you:
Synchronize the same information across multiple companies' CRM systems by using one central source of truth from which all relevant data is pulled in real-time (not just when it changes). This saves time because there's no need for users or managers to manually enter new information into each system; instead, they can simply pull from their centralized source of truth.
2. Datasets
Datasets is a powerful tool used to automate HubSpot tasks and save hours of time. These tasks were previously available only to those with the coding knowledge to build integrations. But, with datasets, now anyone can use and benefit from automation in HubSpot.
In Dataset explorer, you can view a list of datasets HubSpot has indexed from external sources like Crunch-base and Thomson One.
HubSpot's API is available to all customers on the perform basic plan or higher. Users in Enterprise plans have even more access to HubSpot data exports and data management capabilities.
In HubSpot, the way that you represent your customer data and your business data is through datasets. It consists of a number of activities, which are the basic building blocks of automations. 
So if you want to create an automation, it's just a matter of putting together different datasets and activities together, and you're good to go.
3. Reporting Calculations
The table reports all the calculations while showing up in each column that is in the report.
Shipped total – This is the number of products shipped at the end of the period.
Returned products – This is the number of products returned at the end of the period.
Cancellations – This is the number of products canceled at the end of the period.
Sales – This is the total amount of sales received at the end of the period.
Amount due – The sum of all invoices, discounts and product costs that are still due at the end of the period. If a payment already has been made for invoices at the end of the period, it will be included as part of accrued revenues.
Recurring Payments amount due –  this is a subreport (subtotal) and will be included as part of amount due when selected from drop down in the upper right corner.
4. Snowflake Data Share
Snowflake data share is a great way to connect your HubSpot data warehouse to the third party tools you use.
Briefly, here are a few of the coolest things you can do with Snowflake Data Share easily:
Add leads from your Data Warehouse to Google AdWords, Facebook Ads, and more. Create custom reports on your data warehouse with the Snowflake Platform.
Automate the movement of data between your Warehouse and any Snowflake-optimized platform (like Google BigQuery or Algorithmia ). This can be done in batch mode or as-a-service. 
Snowflake Data Share is FREE for all new HubSpot customers. 
5. Additional Reports, Lists, and Workflows
Imagine the possibilities if you had access to even more reports, lists, and workflows in your HubSpot account! 
You can generate a list of comments by using the new 'Comments List' report. The 'New Workflows' report shows all of your team's new workflows that are still in progress.
Admins can now access 'List View Export Options' within their lists. This feature gives you three options for downloading your list: View History Report, Raw Data Export (CSV), or Bulk Export (CSV).
Simply scroll down to the 'Export Options' section within a list and select the format you want.
To Grow Better, You Need to Run Better.
To grow better, you need to run better. Automating processes is one way to run better.
If you're looking for a long term strategy that can help your business get ahead of the competition and improve customer service, here's how automation works:
It reduces costs by eliminating manual work and reducing errors in processing data;
It increases efficiency by providing more accurate results with fewer staff members;
It improves productivity by using software applications or bots that can perform repetitive tasks quickly and efficiently
HubSpot operation hub is a cloud-based platform that helps you automate your business operations. It's a powerful, yet simple to use tool that lets you create custom workflows and integrate with other apps. 
With the HubSpot operation hub, you'll be able to automate any part of your organization's workflow by connecting processes together so that they can run in parallel or in sequence across multiple platforms.
Conclusion
If you're looking to automate your business processes, then the HubSpot operations hub is an excellent choice. It's all you need to automate your entire business process to cut the cost, increase employee efficiency and generate more revenues. 
Get started with HubSpot operation hub and take your business operation to the next level.