If you're a small business owner, chances are that you've got your hands full. You're juggling between all the aspects of running a business and making sure everything is running smoothly. 
So when it comes to choosing the best CRM solution for your business, it's easy to get lost in the choices available out there. 
In this article we'll help simplify things for you by providing an overview of what CRMs are and how they work; as well as detailing some of our favorite options for small businesses. And, you'll also know which CRM software increases sales. 
How Does Good CRM Software Work?
CRM software has a lot of use cases in the workplace, and it can be used for a variety of different tasks.
One of the most popular use cases for CRM software is to help salespeople. It can help them keep track of their leads, track their activities, and even keep a list of the best prospects.
CRM software can also be used to manage customer service. It helps customer service agents know who their customers are and what they need from them. And it helps customer service managers know how well their employees are doing in this area.
It is used to track and manage customer data, which helps you be more organized, improve sales and increase productivity.
A good example of this type of software is HubSpot Sales Hub. It helps companies create better customer relationships through its marketing automation capabilities.
When Does Your Business Need a CRM?
When you want to manage your leads, increase sales, track your sales team performance and increase customer engagement.
CRM software is a powerful tool that can help you do all this.
Manage your leads more efficiently by allowing you to segment them into different groups based on attributes like location or industry. 
You'll also be able to keep an eye on what's happening with each lead at any given time—how many are new, what stage they're in (interested vs qualified), who's contacting them and even whether or not they've been contacted by anyone else yet! 
This way it becomes easier for everyone involved with the process because everyone knows where things stand at any given moment. So, there aren't any surprises when something comes up later down the line."
Which is Better, a Web-based CRM or an on-premise CRM?
In short, a web-based CRM is the best choice for small businesses. It's easy to set up and use, and it can be accessed from any device at any time. 
Plus, you'll get access to all your contact data from one place—no more searching through emails or managing spreadsheets by hand!
For large businesses with multiple departments or locations (or even single locations), an on-premise CRM might be better suited for your needs. This type of software enables you to manage different contacts easily through a central database rather than having everyone enter their information separately into different systems.
It also allows users in each department to collaborate with each other without having access directly through email; this helps reduce duplicated efforts as well as increase efficiency overall because no one will have access just anywhere they want without going through proper channels first."
Are Small Businesses More Likely to Prefer a Web-based CRM or an on-premise One?
This is an interesting question, and it's one that can be answered by looking at how much money you spend on your CRM software. Web-based CRMs are free for small businesses, which means that they needn't worry about the cost of upgrading their system as they grow in size. 
On the other hand, if you're running a large business with thousands of employees at multiple locations around the world (or even just one), then an offsite solution may suit you better than a cloud-based product like Salesforce. 
Because there will be so many users who will require access to data across multiple sites and devices. 
And, this can make things complicated!
What Are the Best CRM Software in the Market?
HubSpot Sales Hub is the top CRM software for professional sales teams. It integrates with email marketing tools, web content management systems, and more to make it easy to manage your entire sales process from one place.
Zoho SalesIQ is another great option if you're looking for something simpler than HubSpot or Pipedrive. 
The app features a drag-and-drop interface that makes it easy to add leads and contacts into your database without having to enter all the information by hand. 
Plus, its mobile apps let you access your data even when you don't have an internet connection!
1. HubSpot Sales Hub 
HubSpot Sales Hub is the best CRM solution for small businesses. If you're looking to increase sales and improve your customer experience, HubSpot is the best choice.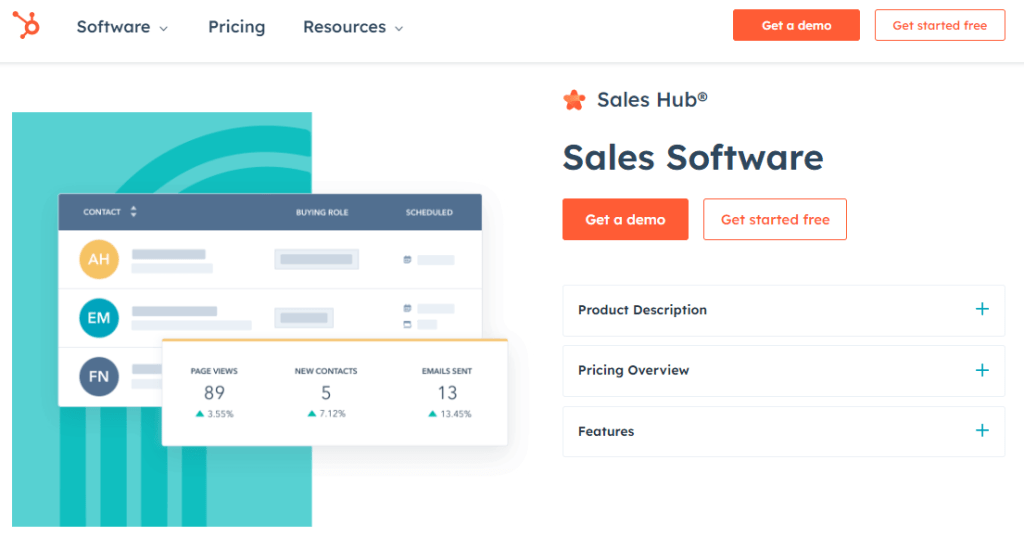 HubSpot Sales Hub is a web-based CRM solution that's easy to use and affordable. It has all of the features you need, including:
Live chat
Conversational bots
Email tracking
Messenger integration
Rep productivity performance
Simple automation
Campaign tracking and analytics
Email marketing automation and many more.
Lead management Sales reporting and analytics (like sales performance reports) HubSpot is the best CRM solution for small businesses. 
If you're looking to increase sales and improve your customer experience, it is the great choice. It is a web-based CRM solution that's easy to use and affordable. 
It has all of the features you need, including: Campaign tracking and analytics, email marketing automation (like tag management), lead management, sales reporting and analytics.
2. Zoho SalesIQ 
Zoho SalesIQ is a CRM software for small and medium businesses. It's easy to use, has an intuitive interface, and comes with built-in email marketing tools.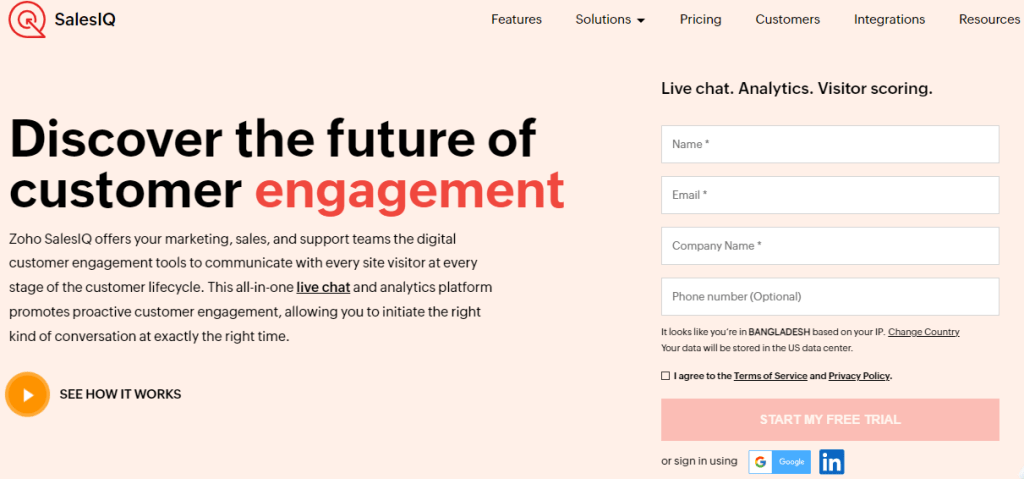 Zoho SalesIQ offers a free trial so you can see how it works before committing to a subscription fee. 
The cost of this software is reasonable compared to other CRMs available on the market today.
3. GoldMine 
GoldMine is a CRM that's known for its excellent sales automation features. It was founded in 2010 and has since grown to over 5 million users around the world.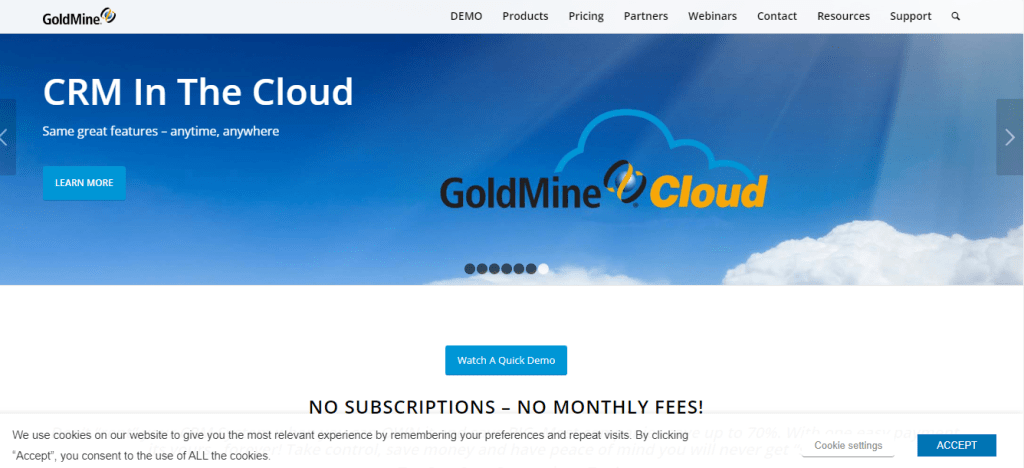 GoldMine offers a 30-day free trial, which you can use to try out their product without committing to it. The price of GoldMine starts at $1,500 per user per month (with discounts available). 
But they also offer additional add-ons that can be purchased separately and added onto your account with no additional cost.
4. Pipedrive 
Pipedrive is a great CRM for small businesses. It's easy to use, even for non-technical people, and it offers some nice features like scheduling and lead scoring.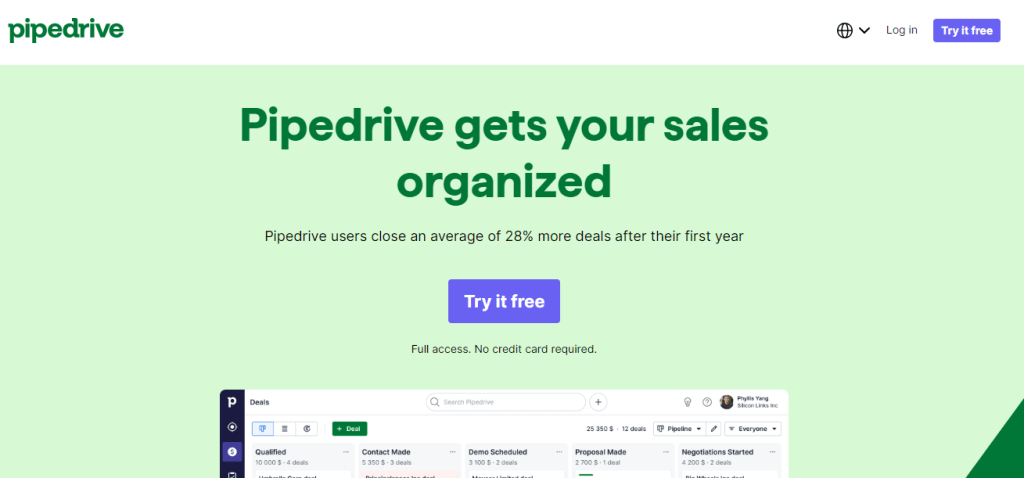 Pipedrive has a free plan that includes only limited features like sending email alerts when activity occurs in your account (like sales commissions being paid out). 
If you want more advanced functionality like tracking leads or creating custom reports, you'll need to pay $10/month or $150/year.
5. AgileCRM 
AgileCRM is a simple and easy to use CRM software for sales, marketing and support teams. It has a free trial that you can use for 30 days, so you can see if it's right for your business before paying the full price.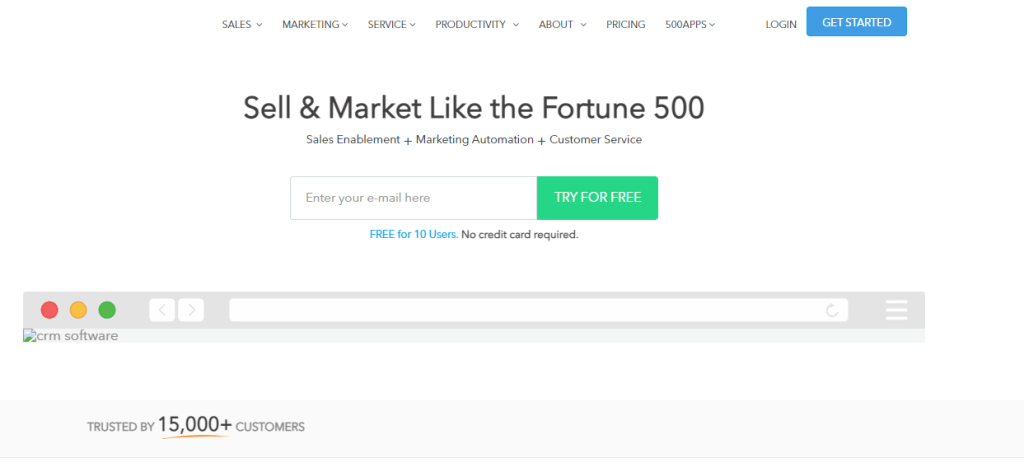 AgileCRM allows you to track leads, contacts and opportunities in one place. It also offers analytics so you know what works well with your customers/clients or competitors' products/services.
The Best CRM Solutions in 2023 are HubSpot, Zoho SalesIQ, GoldMine, Pipedrive and AgileCRM
HubSpot: It is a marketing automation platform that helps you to grow your business. It has a number of features that set it apart from other CRMs.HubSpot CRM is an all-in-one marketing and sales tool that helps you to generate leads, convert them into customers, and close deals. It has everything a company needs to succeed in the modern age of digital marketing.It has an inbuilt analytics dashboard which provides data on website visitors, social media followers, email subscribers and more. There are also tools for lead scoring, email marketing and landing pages.It also has features like webinars, live chat and social media management tools to help you connect with customers across the various channels they use.
Zoho SalesIQ: Good fit for small businesses who need a robust solution that's easy to use and integrates with other products, especially with marketing automation tools like Zapier or Campaign Monitor.
GoldMine: A good choice for companies that don't have a lot of cash flow yet but still want to take advantage of the latest features in their CRM software offerings.
Pipedrive: Great option if you're looking for something simple and straightforward without any unnecessary bells and whistles but still want an effective sales pipeline management system that can help boost revenue growth while making it easier than ever before!
How Hubspot CRM is the Best Fit for Your Small Business?
HubSpot is a CRM software that's perfect for small businesses. It's a web-based CRM, so you can access your data from anywhere with an internet connection and use it to manage your contacts and leads.
HubSpot offers three different plans: Starter, Professional and enterprise (which includes additional features). 
The Starter plan includes all the essentials—it allows you to send emails, create campaigns, add leads or contacts in bulk via CSV file uploads (and more). 
You also get access to how many contacts you have on record at any given time as well as their email addresses and other contact information like phone numbers or social media handles. 
On top of that, there are some advanced tools like lead scoring based on keywords used in sales emails; automated follow-up sequences based on historical data. How buyers interacted with content types over time; A/B testing capabilities. 
Which allows marketers who want quick wins without having full control over everything happening behind closed doors!
Conclusion
To sum up, the best sales CRM software in 2023 is HubSpot. It's easy to use and integrates with your other apps in a way that makes sense for your business. 
If you need help choosing the right one for you, our team is happy to answer any questions or walk you through the process of signing up.
Get started with HubSpot sales hub and skyrocket your sales and revenues. I hope you got the idea which CRM software increases sales for your business.