The business world has changed. It is no longer about simply running a business, but also making it profitable. The best way to achieve this is by using business management software.
Do you want to improve the performance of your business? Are you looking for a way to increase the efficiency of your personnel and reduce operational costs? Or maybe even both? 
Business Management Software can help you achieve all of this and more, with many benefits on all levels from within your organization.
In this article, I'll be reviewing some of the benefits of business management software for your business and identify an effective business management tool.
1. Improved Management
Business management software can help you manage your business better. This is because it helps you make better decisions and understand your business, anticipating problems before they happen. 
It also helps to plan for the future by creating a culture of continuous improvement in which everyone is aware of what needs to be done and how best to do it. 
When something goes wrong, the software allows for an immediate response so that no time is lost trying to figure out what went wrong or who may have caused it!
2. Handling Major Growth
If you're in the process of growing your business and need to scale up, a business management software can help. This is especially true if you're looking to manage growth in a specific area like marketing or customer service.
With the right software, it's easy to track employee productivity and performance metrics so that everyone knows what they need to do next. 
You'll also have access to tools like time tracking tools that will keep track of how long each employee spends on certain tasks (and whether those tasks are complete).
3. Greater Efficiency
The need for speed and efficiency is one of the major benefits of business management software. 
In today's fast-paced world, you need to be able to get your work done quickly and efficiently. If there's any downtime at all, it can lead to big problems. 
That's why it's important that your firm has a system in place that allows them to easily access data when they need it most—and quickly!
Businesses also benefit from better collaboration between different departments within an organization because they don't have any hidden agendas or backstabbing going on behind closed doors (or even open ones). 
With this type of transparency comes greater trust between people who work together on projects or within departments within larger companies; thus making communication easier than ever before!
4. Economy of Time and Money
Business management software saves time and money. It reduces the need for human error, allowing you to focus on the things that matter most. 
For example, with a business management system you'll be able to automate repetitive tasks like dealing with invoices or managing payroll so that your staff can spend more time on higher value activities like marketing campaigns and customer service.
You can also make better use of data by automating business processes that require manual processing such as tax calculation or reporting requirements. 
This will save both time and money because it eliminates errors in data entry – something which can happen quickly when people are rushed during busy times at work!
5. Effective Inventory Management
Inventory management software is an important part of any business, but it's also one of the most complex parts. Luckily, there are plenty of tools available that can make inventory management easier to manage and more effective.
The benefits of using an inventory management software include:
Increased efficiency in managing your supplies
Reduced costs by automating tasks such as ordering and receiving shipments
Improved customer service because you can provide better information about what you have in stock at all times
6. Better Collaboration
Collaboration is the key to success. Business management software helps you collaborate with your colleagues and customers, which means better decision making, communication and execution.
7. Easy Reporting
Good reporting can help you stay organized and give you the information you need to make better decisions. It also helps keep your employees informed about what's going on in the company, which leads to better morale and teamwork.
Business management software makes reporting easy for managers because it lets them generate reports from anywhere at any time with just a few clicks. 
You don't have to worry about printing out hard copies or mailing them out; instead, all of your reports are saved as PDFs or other files that can be emailed directly from within the software itself—no more waiting for paper copies!
8. Business Management Software Makes It Easier for You to Run and Grow Your Business.
It helps to make your business more efficient: With the right tools, you can track inventory, manage payments and communicate with suppliers.
It helps you to get a complete view of your business: You'll be able to see how all your departments are performing at any given time (or even when they're not), which will allow for better decision-making down the road.
Plus, if something goes wrong with one part of the operation—for example if orders aren't being filled fast enough—you'll be able to identify where issues lie so that corrective action can be taken quickly instead of waiting until things get worse before addressing them head-on.*
9. To Increase Operational Efficiency, Companies Need to Modernize Operations.
Modernizing operations is a key way to increase efficiency. By modernizing your business, you can improve the efficiency of your processes and systems and make them more efficient in order to increase profits.
Modernization is an ongoing process that involves identifying flaws in current systems or processes, redesigning them to meet new requirements, testing them before going live with new functionality or products/services etc.  
Keeping them updated when changes are made to their environment (e.g. software), training users on how best to use these new systems so they remain productive. 
When they start working with them regularly again after being used temporarily while learning how they work during the implementation phase which usually takes place within months after launch date. 
Typically six months after launch date but sometimes longer depending on complexity level needed by company size (smaller companies tend to lack resources needed for such big tasks).
10. It is the Need of the Hour to Go Digital.
Businesses are now embracing digital transformation as a way to achieve higher returns on investment, increase customer engagement and improve operational efficiency. 
However, many companies still struggle with how they should use technology in their business processes or even what technologies are most appropriate for them.
11. It Helps Managers and Employees Get a Comprehensive View of Their Business.
Business management software helps managers and employees get a complete picture of their business. It gives them the ability to see how their company is performing, what's working and what isn't, as well as allowing them to track financials from all departments in real time. 
This allows you to have an up-to-date understanding of how each part of your operation is going so that you can make informed decisions about where improvements should be made next.
12. Build a Profitable Business Model by Analyzing Your Industry and Competitors.
Understand your industry and competitors.
Understand your customers.
Understand your business model (what you do, who you do it for, what makes it unique).
Know the cost structure so that you know how much money to invest in each area of your business.
Know where your data comes from as well as how it can be used by other departments or vendors within the organization (this is especially important if they are external suppliers).
13. Digital Transformation Results in Better Customer Experience.
Digital transformation is a way of improving customer experience. With digital transformation, you can see how your business is changing, and you'll be able to react to changes in real time.
For example: Customer service reps can use AI to predict what customers might need next based on previous interactions and data from other sources (such as social media). 
This will help them determine which questions should go into an email or chat message, rather than the ones that will get bounced back for follow-up later on down the road.
Another example involves answering emails right away instead of waiting until after hours when someone needs assistance with an issue they've encountered while shopping online—and even then only if they're willing to pay extra money just so they don't have to keep waiting around anymore!
14. Business Management Software Can Drive Innovation, Efficiency and Customer Experience.
It drives innovation, efficiency and customer experience.
It makes it easier for you to run and grow your business.
It helps managers and employees get a comprehensive view of their business, which is essential for making smart decisions about how to run the company.
It helps you build a profitable business model by analyzing your industry and competitors, so that you know where best to focus your time and efforts when competing with other companies in the same market space as yours (or those who are currently better than you).
What Makes Hubspot the Best Business Management Software?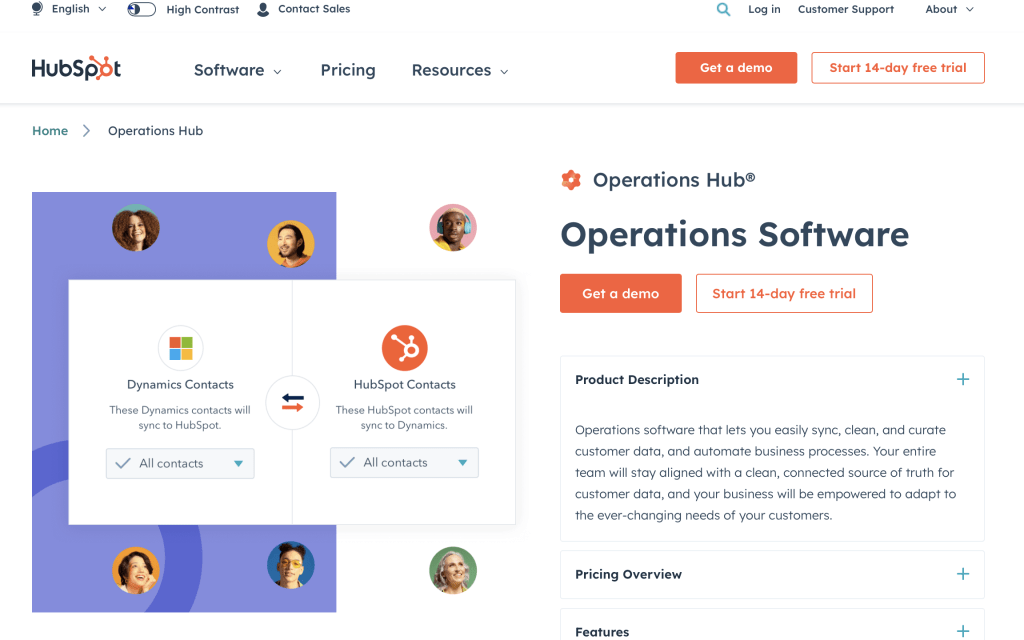 If you're looking for a business management software, there are thousands of options out there. It can be difficult to decide which one is right for your company, but here are some benefits of business management software HubSpot:
1. Easy to Learn and Use.
HubSpot is easy to learn and use. It has a great user interface, which makes it simple for beginners to navigate and use. The learning curve is gentle enough that even people with no technical skills will be able to navigate HubSpot's features easily.
2. Offers a Full-featured Free Version
You can use the free version of HubSpot to get started with marketing automation, inbound marketing and sales enablement. You'll be able to manage your email lists and set up campaigns that send automated emails based on certain triggers.
You'll also be able to create landing pages for your website or blog, track leads through Webform campaigns, create drip email sequences and more!
3. Allows Your Business to Grow and Expand.
HubSpot's platform allows your business to grow and expand. You can use marketing automation, lead generation, social media management and more to grow your business through the use of HubSpot's platform. This is because it was built for growth and expansion in mind.
It has scalability built in from day one which means that no matter how big or small you are right now; there will always be room for improvement with HubSpot's tools. 
The same goes with any other online software as well – if it isn't scalable then it won't work at all!
4. Integrates Seamlessly With Third-party Systems.
HubSpot seamlessly integrates with all major marketing and sales platforms.
HubSpot integrates with all major email providers, including Constant Contact, Mailchimp, AWeber and more. It also integrates with Google Analytics and Facebook Insights (with an add-on).
5. Extremely Secure and Reliable
It is extremely secure and reliable.
It has a dedicated security team that monitors all activity, including access to the network and data center.
The company uses state-of-the-art technology to keep its servers safe from hackers and other threats, ensuring that your information is always safe.
6. Hubspot Comes With World-class Support.
HubSpot's support team is available 24/7. If you have a question, they'll be glad to help!
They're friendly, knowledgeable and helpful—and they respond quickly to your requests.
HubSpot's support team knows the product inside and out; they know what you need from them so that you can get back to work on time with less stress or confusion about any issues.
7. Business Management Software Shouldn't Be Complicated or Expensive.
It's important to note that HubSpot offers a full-featured free version of their software. This allows you to get started with the platform and use it as your business grows, while still being able to scale up in the future if needed.
HubSpot's platform allows your business to grow and expand. It integrates seamlessly with third-party systems like Salesforce or Google Analytics. 
So your team can stay on top of all their data without needing another piece of software at each stage of growth (which is something we all know can get expensive).
Additionally, HubSpot is extremely secure and reliable: they have been recognized by Gartner as one of only eight companies worldwide who are excellent in their ability "to provide effective IT operations management across all parts of an enterprise" – meaning they excel at helping businesses run smoothly while keeping costs low!
Conclusion
HubSpot is the best business management software on the market because it's easy to use, offers a free version with all the features you need to run your business, integrates seamlessly with third-party systems, and comes with world-class support.
I hope you understood the benefits of business management software. So, what are you waiting for? Automate your entire business process with HubSpot Operation Hub and take your business operation efficiency to the next level. 
FREE trial available. Get started with HubSpot.