Quality hosting is important for any web application because it ensures uptime, security, and performance. With so many hosts out there, it's hard to know which one to choose for your application. But not all hosts are created equal.
For busy professionals, a reliable hosting provider is a must-have to ensure that their online presence runs smoothly.
Need secure and scalable application hosting that offers value-added features to run your application as fast and efficiently as possible?
Let's explore the Kinsta application hosting review to know all the things related to it. 
Key Consideration to Choose the Best Application Hosting
As you begin to consider which hosting to use for your application, it's important to keep in mind that there are a number of factors that can affect the performance and reliability of your site.
Here are some key considerations:
Scalability – How will the platform handle increasing traffic? How much server power will be needed as your site continues to grow?
Security – What measures have been taken to keep unauthorized users from accessing data or hacking into the system? Is there an adequate number of security experts on staff who can respond quickly when something goes wrong (for example, if someone tries brute-force password guessing against one of their servers)?
Reliability – Can they guarantee 99% uptime over a period of time without fail? This means no downtime because of hardware failure or software bugs; instead, what happens is gradual degradation over time due to slow components like hard drives becoming corrupted by heat buildup due to poor ventilation or just old age. 
Performance – How fast is the site in general? How well does it handle traffic spikes? What kind of resources does it use (RAM, CPU, bandwidth)? Is there a way to view statistics about these things?
Key Features of Kinsta Application Hosting 
Kinsta is a premium web application hosting solution that offers a complete, customizable and scalable solution for your business.
Kinsta is a cloud-based platform that allows you to deploy and manage your applications on our powerful infrastructure. Now let's take a look at the key features of Kinsta.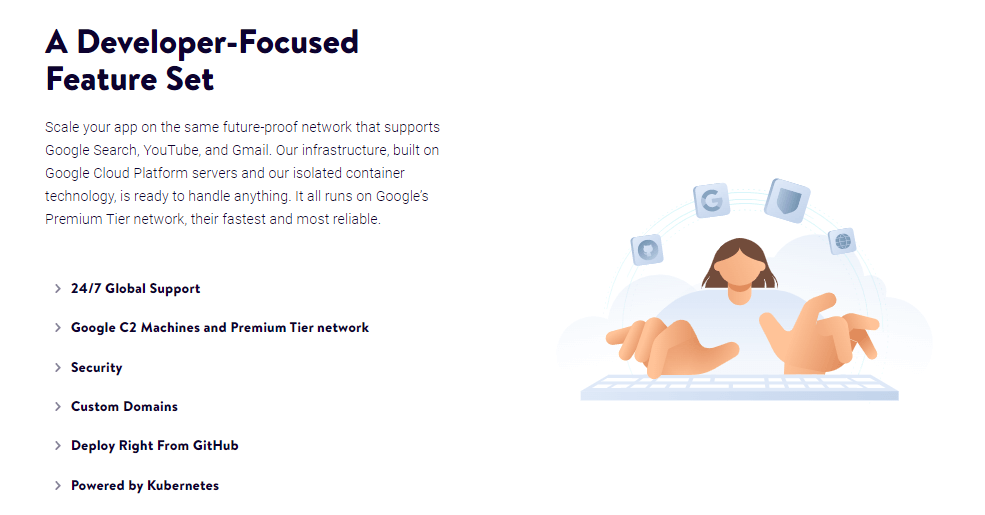 1. 24/7 Global Support
Kinsta can offer you the best 24/7 support services. Their team is here to help you with any issue or question you might have regarding their products, services, and website. 
They take care of queries as soon as possible and ensure that you are getting the best out of the application hosting platform!
2. Google C2 Machines and Premium Tier network
Kinsta allows you to host multiple applications on one server using Google Cloud Platform (GCP) machines, which are managed by Kinsta's dedicated team of developers who have years of experience in managing these machines. 
They also provide you with a premium tier network that has been tested by Kinsta's experts to ensure that your application is being served through an optimized network connection.
3. Security
When it comes to security, they take it very seriously at Kinsta because they know how important it is for all online businesses to be protected from hacks and external attacks. And, they make sure your data is safe when it comes under their control! 
Their technology offers strong security measures that protect your site from cyber-attacks and viruses while making sure that only those who have access to your site will be able to view the content of the page or blog post.
4. Custom Domains 
You can create custom DNS names for your application and enable SSL, load balancers and CDNs with only a few clicks.
5.  Deploy Right From GitHub 
You can deploy your website, application or any other type of project from GitHub directly on to Kinsta Cloud Server using our Git-preview deployment tool.
6.  Powered by Kubernetes 
Kinsta Cloud offers a fully managed Kubernetes cluster that keeps all your containers up-to-date and ready to serve traffic 24x7x365 without any manual intervention required from you or your team members.
7.  Better Performance With Internal Connections 
The internal connection feature allows you to route your requests through the servers closest to them so they reach the server first before being routed out over the internet (the default). 
This helps improve performance by reducing latency between requests reaching their destination server as well as increasing
Why Kinsta Application Hosting Service?
In the Kinsta application hosting review, now I will show you why you should choose kinsta to host your application. It is a high-quality, trusted and reliable application hosting. It offers a wide range of high-performance, fully-managed hosting services to help you build and optimize your applications.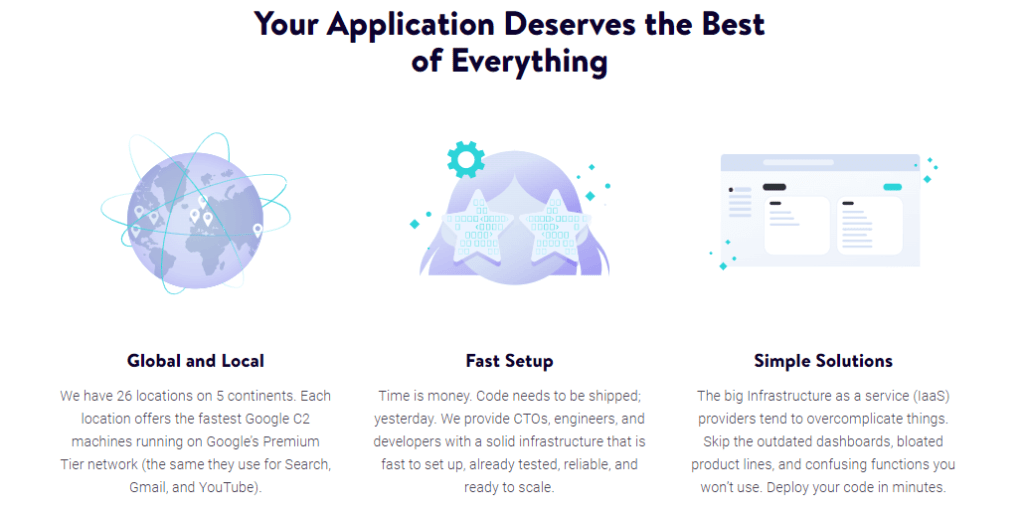 Kinsta is also a Google Cloud Platform partner, which means that it offers seamless integration with Google's infrastructure and tools such as Stackdriver monitoring and App Engine Flexible Runtime (Flex). 
This helps you build fast & secure applications while minimizing costs by only paying for what you need!
Finally, it is certified by Google as an official Managed WordPress Hosting Partner (MHP). 
They take pride in providing top-notch support for their customers so they can focus on their businesses instead of worrying about server maintenance or technical issues. 
Let's see the key takeaways of Kinsta premium web application hosting. 
1. Dedicated Server Logging
Logging is an important part of your application, whether you're developing a website or building a mobile app. Logs capture information about the requests and responses that your application makes to the server. 
You can use this data to learn what works best for users and improve the performance of your site or app in general.
Logging also provides useful insights into errors that may occur within your system—for example, if something goes wrong on one page but not another, this may indicate that there's something wrong with how those pages are being rendered (or even some other aspect of the infrastructure). 
This type of information could help identify where problems lie so they can be fixed more easily in future updates; however, it's important not get too caught up in analyzing every single log file!
2. Dedicated, Cloud, and Hybrid Application Hosting
Dedicated, cloud and hybrid hosting are the three most popular options for application hosting. They each have their own benefits and drawbacks.
Dedicated application hosts offer you complete control over your server configuration, including the operating system (OS), application stack and database engine of your choice. 
You can even add additional features such as SSL certificates if needed—no worries about changing out those certificates when they expire! 
However, this option comes at a high cost per month since there may only be one server available to you at one time; therefore if demand increases or decreases suddenly due to seasonal changes in traffic patterns or business volumes (which happens every year). 
It could affect performance negatively as well as increase costs significantly because of how much more expensive dedicated servers tend to be compared to shared ones which offer higher scalability but lower costs per instance hour."
3. Logstash, Elasticsearch, and Kibana Application Monitoring
As you've probably discovered, there are many ways to monitor your application's performance. If you're using a log shipper such as Logstash and Elasticsearch, then both will send data directly to Elasticsearch. 
These two technologies can be used together in order to improve the monitoring capabilities of your application.
Elasticsearch is an open source search engine that allows users to run queries on large amounts of data by indexing all messages sent through their application or service (like cloud platform). 
It also provides various tools for performing searches within this indexed data set; one example would be Kibana which uses Graphite as its backend. 
With Kibana, users can visualize their Elasticsearch indices across multiple dimensions such as time series graphs showing how many events were recorded over each day or week period. 
Since integration was first initialized into production environments across organizations worldwide — anywhere from 100 milliseconds down through 1 second!
4. Proven Infrastructure With an Industry-leading Service Level
Make sure your applications are solidly hosted, running on a proven infrastructure with an industry-leading service level agreement.
Kinsta application hosting is built for scale and security. They have 24/7 Network Operations Center monitoring and incident response teams that can help you fix any problems that arise quickly.
5. 24/7 Network Operations Center Monitoring and Incident Response.
They're committed to providing the best of the best in application hosting. Their 24/7 Network Operations Center monitors and responds to any issues as they arise, 24 hours a day, 7 days a week. 
This means you can trust that your applications will run reliably, with no downtime or slowdowns—no matter what happens on the Internet at large!
6. Get the Full Power of Our Hosting Platform for Your Applications. 
Kinsta is a fully managed application hosting platform that provides the best performance and security for your applications. 
They offer high-performance hosting for application, with plans starting at just $35/month. Kinsta has been built from the ground up to make your application faster and more secure than ever before.
Host your application in closet data center to load faster. Take a look at the data center of Kinsta.

Kinstas features include:
Managed Hosting – With a single point of contact you can get help with all things related to your site such as scalability, uptime or security issues immediately if they arise.
Full Feature Suite –  From caching plugins like WP Super Cache or Cloudflare Speed Test API through email delivery services like Mailgun or Mandrill  (or other providers) there are plenty of options available which will make sure that even if something goes wrong with one part of the system it won't affect others.
7. Make Applications Are Both Scalable and Secure 
Kinsta understands that security is the most important aspect of any hosting platform. That's why Kinsta has an industry-leading SLA and a 24/7 network operations center (NOC). 
They have also built their own custom-built application stack, which gives complete control over your applications security and performance. 
Their team of developers can ensure that no matter how big or small your application is, it will be running at its peak performance level on all servers in our datacenter—no matter what time zone you're in!
Summary 
Building and maintaining your own application is not for everyone. If you want to get started with a reliable, scalable, and secure platform, Kinsta can help you. 
They offer a range of tools for managing your applications and monitoring them in real time so that you can focus on building the next big thing!
Kinsta application hosting is an open source, managed cloud platform that provides secure and scalable infrastructure for developers building applications.
It is designed to help you build and scale your web apps quickly, without worrying about servers, patches or downtimes. 
So what are you waiting for? Get the secured and scalable application hosting at an affordable price. Don't miss out.