Mobile app development is a big market where even big companies with serious budgets and teams of professionals behind are struggling to stand out.
The market is too crowded, the cost of app development is too high and the rules are changing too fast for established players. 
At the same time mobile app users are searching for the best user experience and their expectations are constantly growing.
Then what's the solution? 
In this article, I'll let you know how you can build a mobile app without experience and programming skill?
Importance of Mobile Apps 
Mobile is the key source for direct sales. As per the statistics, 65% of online sales happens via mobile. This is the reason why businesses have to have a mobile app. Mobile apps are a vital tool for business promotion and lead generation. 
Moreover, it will help you to keep in touch with your customers and offer them a more convenient way to buy products or services.
A mobile app provides three important benefits: 
Extending your company's reach,
Improving your company's productivity and
Reducing your company's costs.
In the present scenario, mobile apps have become an essential part of any business and they play a major role in facilitating the business of any company. 
The reasons behind the same can be many, but the most important one is that they give you the perfect platform to deal with your customers and thus, promote your business in an effective manner.
Here are two reasons why you should consider developing a mobile app for your business: ·
Mobile apps are more convenient – It has been found that in most of the cases, people make use of their mobile phones as their first preference when it comes to doing any work. This is because using a mobile phone is much easier and more convenient for most people.
No-code app development platforms – There are high chances that any mobile app development company will make use of the latest technology so that they can enable their clients to develop effective and easy to use mobile apps. 
Is It Possible to Develop a Mobile App Without Prior Knowledge?
Imagine being able to develop your own mobile app without prior knowledge or coding skills. Apps are taking over the world. The number of mobile users is constantly growing and so is the number of apps.
No-code app building platform allows anyone to design, build and manage a full-screen mobile app without any prior knowledge. With the app building platform, it's possible to create a mobile app in less than 90 minutes!
With the Shoutem no-code platform, you can build your app with no coding at all, with the drag-and-drop tool and the gadget library. 
You don't even have to have a technical mind for this. You can even add live chat, payment gateways and video recording in your app with just some clicks.
The Shoutem app building platform has an easy to use drag-and-drop interface, a huge library of templates and gadgets to choose from and a professional support team to assist you in case of any questions or problems. 
The platform also allows you to integrate your existing website into your mobile app within minutes – with just one click! So it would be really interesting for more businesses to start using the no-code app building platform.
How Much Time Does It Take to Develop an App With No-code App Building Platform? 
Have you ever thought about how much time and money you can save by creating your own app? Today, mobile apps are becoming more and more popular. 
They have literally changed our lives and have become a major marketing strategy for business owners.
The reasons are simple: an app can be used on personal and business level; it's easy to use, you don't even need coding skills to create your own app; and finally, it's not that expensive. 
The importance of mobile apps is growing day by day and there is no doubt that having an app for your business is a must.
However, like everything else, there is a downside of developing your own mobile app. First of all – it takes time to develop an app. 
To build an application from scratch takes countless hours (even weeks). That's why you should consider using an app building platform and create a no-code app instead.
With no-code app building platforms like Shoutem, the process can take only an hour. It comes with pre-designed templates, features and elements. 
Can I Build a Mobile App Without Experience?
The no-code app builder is a platform that allows users to build apps without coding.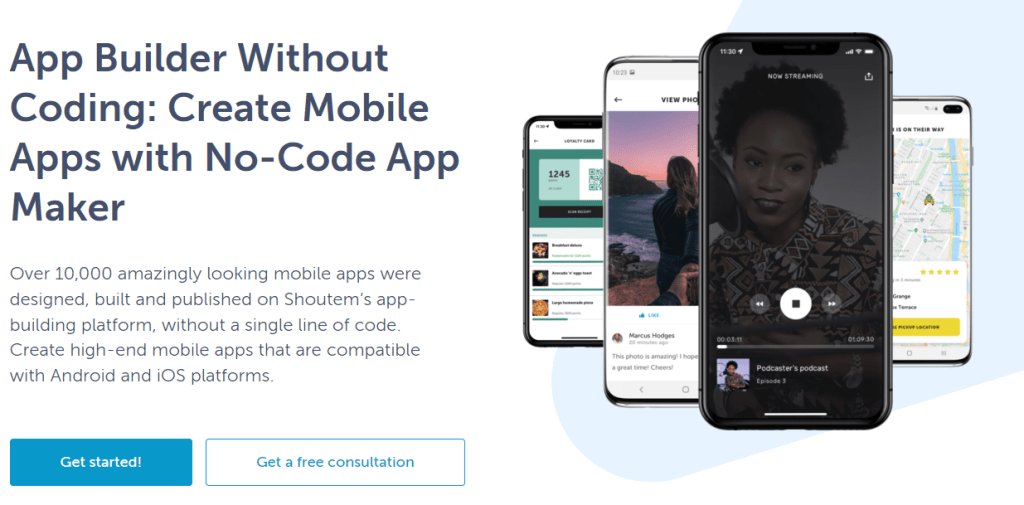 The platform was designed with all the tools and features you need to build an app, from the very beginning to deployment. 
Every element of your app (wireframe, flow, screens, data visualization and much more) can be created in minutes using the graphical user interface (GUI).
Shoutem is a no-code platform for everyone to build apps without any programming and development experience. However, it brings an extendable feature set that allows app builders to extend their apps with custom features they want.
With Shoutem's no-code app builder, even people without programming experience can easily create beautiful native apps for both iOS and Android without learning code.
Nowadays, many companies have mobile applications to improve the performance of their business in different areas (such as e-commerce, edutech and e-health).
However, for many startups or small businesses, building their own mobile application is a daunting task. 
Without any development background, it's difficult for those companies to build any app from scratch: from idea to design, from design to development, from development to testing. 
But Shoutem has been built for them. An easy to use drag and drop app building platform for all. Develop your first mobile app now.