It's no secret that professional services in businesses need a CRM (customer relationship management) system. The benefit of using CRM is that it provides all the tools you need in one place, including accurate tracking of time and money, invoicing, billing and payment processing.
In this article, let's find the answer: What is the best CRM for professional services, needs, features, benefits and more?
What You Need From a CRM?
The best CRM for professional services is one that gives you everything you need to run your business. Here's what makes a great CRM:
A good CRM will help you manage tasks, projects, and billable hours so that you can get paid quickly and easily—it should have an integrated expense tracker (like Xero) so that all of your clients' expenses are tracked automatically. 
This means less time spent manually tracking invoices or logging out of the app on each client's invoice date. 
It also allows for better reporting about how much profit each client brings in per month or quarter; this data can be used as part of future negotiations with them about future projects which may require different pricing than initially agreed upon by both parties at first meeting
Key Features of HubSpot CRM
A CRM is an essential tool for any organization that wants to develop long-term relationships with their customers. It can help you stay in touch with your customers, know what they want, and provide them with the products they need.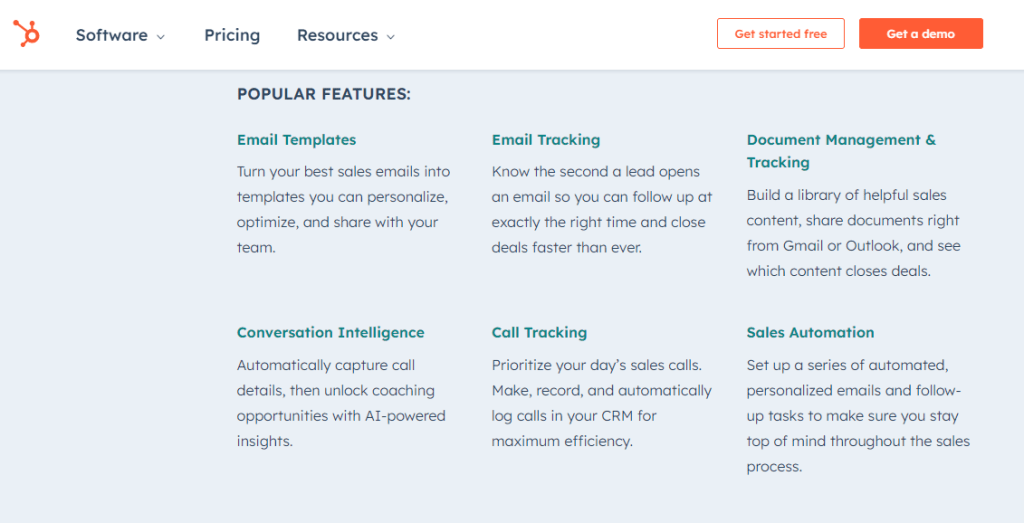 Features are important because they allow you to make the most of your CRM software. Without the right features, you will find it difficult to reach your goals and have a successful business. 
Let's take a look at some of the key features of HubSpot CRM. 
1. Accurate Tracking of Time and Money
Tracking time is an important part of any CRM system, but it's especially critical for professionals. 
You need to know how much time you spend on projects and what your earnings are from them so that you can see whether or not your company is making money.
Accurate tracking of money spent and earned will help determine if your business is running at full capacity or if there are gaps in its revenue stream.
2. Invoicing, Billing, and Payment Processing
Invoicing is one of the most important components of any CRM system because it allows you to invoice clients for services rendered or products purchased by the company—and it's crucial that this process be as simple as possible so your clients aren't confused about how much they owe you every month (and why).
HubSpot has an easy-to-use billing system that lets you create and send invoices, track payments, and set up recurring billing. You can also manage your history of accounts payable in one place.
HubSpot also makes it easy for managers who don't have time to do everything themselves by offering templates that automatically generate invoices based on specific types of work done:
3. Task Management
Task management is an essential part of the service process. It's used to track the progress of your work and measure its effectiveness, which can help you improve processes and improve customer service satisfaction level.
Task management software helps keep track of everything from tasks being assigned to employees, to when they are completed (and in what amount), as well as how much time each employee spends on each task. 
This data can be used by managers or owners to make decisions about employee bonuses, pay increases or other benefits based on their performance metrics for certain services or products that might be offered by the company.
4. A Real-time View of Each Project
The real-time view of each client and contact is a great way to stay on top of your work, but it can be difficult to get an overview of all the data at once. 
With this feature, you'll be able to see who's in charge of which projects, what they're working on currently, and where those projects are located across your company's infrastructure (if applicable). 
You'll also have access to useful information about the status of ongoing tasks like milestones or deliverables—which means that you won't have any trouble knowing whether something has been completed or not!
5. Customizable Contact Records
The HubSpot CRM is one of the most customizable contact management systems on the market. You can import your contacts from Outlook, Gmail and other apps (CSV format) into the system and use it to store all of your client information. 
It also allows you to create custom fields for each contact record so that you can keep track of what they need when they call or email about an issue.
You'll love how easy it is to use  because there are no complicated features like other CRMs have; instead there are just tools that allow you to customize everything from their first name down through their last name!
6. Personalized Sales Sequencing
HubSpot's Sales Hub is a great way to understand your customers and determine what they need. It provides a sales process that helps you close more deals by following a step-by-step process based on the customer's buying stage.
HubSpot uses this information to help you understand where your leads are in their buying cycle. 
For example, if someone who has just started looking for a new relationship management system (RMS) visits their website but isn't ready to buy yet. 
HubSpot will generate reports about how long it takes them between being exposed to an RMS ad and actually signing up for one.
7. It Offers a Great Amount of Value to Professional Services Businesses
HubSpot's free CRM is an excellent option for professional services businesses. It offers a great amount of value to these kinds of companies, with features that help them get organized and manage their activities efficiently.
HubSpot's free CRM offers a number of features that make it easy to use:
The platform integrates with other tools like email marketing systems and project management software so you can get everything in one place.
It uses drag-and-drop wizards to customize your email templates as needed, which makes it simple for users who aren't familiar with coding languages like HTML or CSS (which many people are).
HubSpot's CRM also has integrations with third party applications such as Google Sheets, Excel spreadsheets and Dropbox files—meaning if someone sends you an excel spreadsheet containing data from their spreadsheet on another device (like their phone), then all they need do is click "Send" on the HubSpot app instead!
How Professional Service Organizations Use Hubspot?
HubSpot is the most popular CRM for professional services companies. It's also a great fit for many other types of organizations, including small businesses.
It helps professional services companies achieve their goals by helping them manage all aspects of their business—from sales and marketing processes to customer relationship management (CRM) tools and more!
Professional service companies use HubSpot because it offers a free CRM with robust app ecosystems that allow you to access data from your website in real time or send messages directly into customer accounts through email, Slack channels or mobile apps.
The Benefits of Using HubSpot for Professional Services.
The benefits of using HubSpot for professional services
It's free. The free version gives you everything you need to get started, and there are no additional costs beyond your subscription plan.
A good fit for small to medium-sized businesses. They can use it regardless of their budget or size, so if your business doesn't have enough money right now but still wants to get started on the right foot, this is an excellent way to do it!
Easy to use and integrates with other software you may already be using (like email marketing). HubSpot offers a wide range of options that allow users from experienced marketers down through novice ones alike—and these features all sync together seamlessly. So that they can work together in harmony rather than against one another."
Conclusion
We hope this article has helped you understand what is the best CRM for professional services?
If you consider all the things then it can be said that HubSpot CRM is an ideal solution for business to deliver professional service. Its scalability and analytics helps the business to provide personalized service and increase customer satisfaction.
So, what are you waiting for? Get Started with HubSpot CRM and start delivering professional service today. FREE trial available.