Customer data management refers to the processes, tools, and methods used by companies to manage their customer information. This includes everything from how customers are identified and contacted, to how they are measured and rewarded for loyalty.
By analyzing all parts of each customer profile, such as age, gender, location and lifestyle preferences, you can create targeted campaigns that appeal to specific groups of consumers. 
This will help ensure that your marketing efforts reach their target audience. This article will guide you to know what is customer data management, its importance, analytics, ways to get, best tool to manage customer data and more. 
What is Customer Data Management?
Customer data management is the process of collecting, organizing, and storing customer data to improve customer experience. It's a way of improving your customers' experiences when they interact with your business.
It can be thought of as an extension of customer relationship management (CRM), which helps businesses maintain contact information about their customers. So that you can respond quickly when something goes wrong or if there are any issues that need resolving. 
CRM also includes tools for collecting information about potential clients and selling products/services based on this information—which is why we call it "customer relationship management."
It helps you understand how your customers interact with your company, whether they are buying or not buying something. 
CDM helps you find out where they are coming from and what kind of products they're interested in purchasing. 
This will help you determine which campaigns should be sent out to those people so that they can take advantage of discounts or freebies offered by your business
What is Customer Data Analytics?
Customer data analytics is a process of analyzing data to understand and predict customer behavior. It helps you identify patterns and trends in your customers' activities, allowing you to improve marketing campaigns, customer service, or sales.
Analyzing past transaction records can help salespeople reach out to potential clients who have not yet purchased from them. 
This can also be used as a tool for customer retention by identifying the types of products that are most likely to sell well in the future. 
For example, if one type of product sells particularly well during earlier months but starts selling poorly then maybe it should be discontinued until such time as demand picks up again.
By analyzing what kind of content performs best on social media platforms like Instagram or Facebook Live (and why), companies can better understand how they should advertise their products/services as well as what kinds won't attract interest from consumers.
Besides, companies may want know how much time was spent talking with each individual person who called into their call center before they ever reach someone else like an agent working directly under them within those same departments
Why is Customer Data Management Important?
Customer data is the lifeblood of any business. It's how you know who your customers are, what they want from you and why they're choosing to do business with you over others.
Customer data also helps us understand our customers' needs and wants by giving us insights into what motivates them to purchase products or services in the first place. 
By understanding these things about your customers, it will allow for more effective marketing campaigns tailored specifically towards their needs at any given time—and this ultimately leads to higher sales!
How Can I Get Customer Data?
You can get customer data from the internet, as well as other sources. Here are some ways to get it:
Social media sites like Facebook, Instagram, Linkedin, Twitter and more allow you to follow your customers, who will then share their experiences with you on those platforms. 
This is a great way to learn more about what makes them happy or unhappy with your product or service, which will help inform future decisions about how you should improve things moving forward (or at least make sure nothing changes too much).
Email marketing lets you send out newsletters that contain valuable information about products and services, along with links back where people can learn more about these things directly from the source itself. 
Which means less time spent looking up things online (and thus less money spent) when someone buys something after reading an article posted somewhere else instead! 
Benefits of Good Customer Data Management
Customer data management is a critical element of any organization that wants to improve its customer experience and ultimately increase sales.
The best way for an e-commerce business to keep customers coming back is by providing a quality product or service experience. 
This can be done through personalized recommendations, reviews and ratings, social media interaction and more.
However, if you don't have an organized system for managing your customer information then it will be hard for you (or anyone else) at the company) to know whether these efforts are working or not. 
This makes it difficult for businesses owners/managers who want their stores' reputations as well as their own personal reputation
Best Systems to Store Customer Data
Customer data management is the collection, storage and analysis of data for the purpose of driving business growth. Customer data can be used to improve customer experience and increase customer retention.
It is an integral part of any business that wants to grow by providing insight into its customers' behaviors, preferences, needs and buying habits.
Why Do I Need a CRM to Manage Customer Data Effectively?
Customer Relationship Management (CRM) is the best tool for managing customer data effectively. CRM helps to manage customer data by tracking their interactions with your business, building relationships with them and improving customer experience.
In order to achieve successful business growth, it's essential that you know what makes a good relationship between your company and its customers. 
This can be done through effective marketing campaigns that show customers how much you care about them as individuals – not just as numbers on screens or lists of contacts!
If you want to analyze customer data to create a result-driven marketing campaign then a high-quality CRM like HubSpot can be a perfect solution for you to drive massive conversion and sales.
Is HubSpot All You Need to Manage Customer Data?
CRM is a powerful and comprehensive sales tool, with features that allow you to track leads, contacts and opportunities; automate tasks; create custom reports; and more.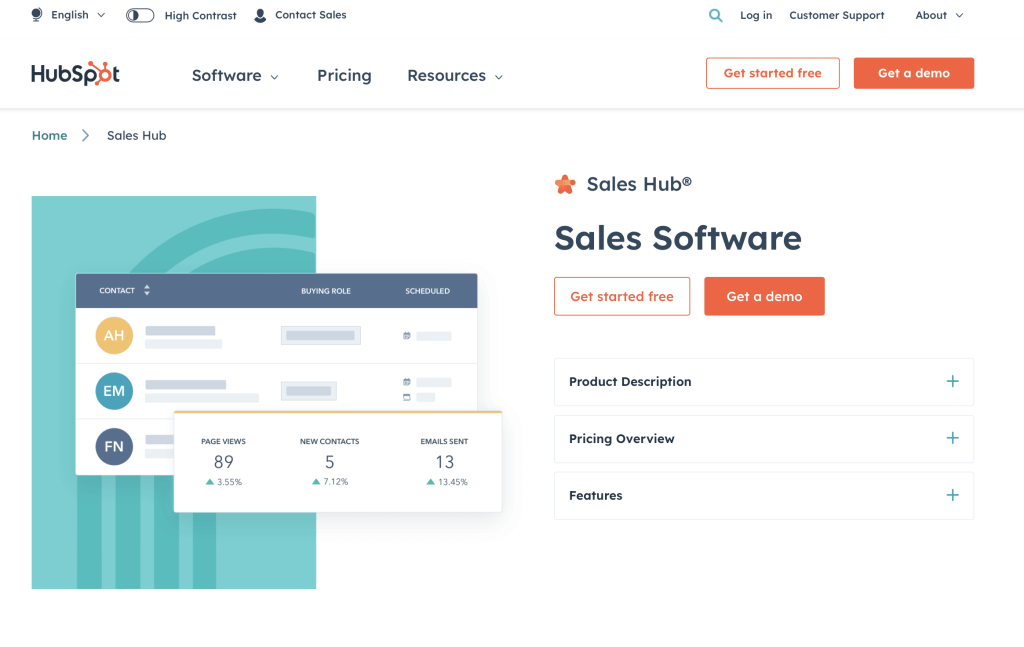 HubSpot's Customer Relationship Management (CRM) solution helps you capture, store and manage data related to your customers. You can use this data to provide personalized customer experiences across every aspect of your business.
The key benefits of HubSpot CRM include:
It allows you to create powerful workflows that automatically move leads directly into the next stage of the sales process when they are qualified.
The HubSpot Sales Hub makes it easy to compare your performance against your competitors.
You can use data from HubSpot CRM to make informed decisions about your customers and how they interact with your business.
HubSpot's Customer Relationship Management (CRM) solution helps you capture, store and manage data related to your customers. You can use this data to provide personalized customer experiences across every aspect of your business.
Conclusion
Customer data management is a key part of a successful business. It can help you gain a competitive advantage by giving you access to valuable insights that improve operations and marketing strategies. 
With this information, you can make informed decisions about how best to serve your customers and make their interactions with your company seamless. 
And if you're an ecommerce business, customer data management also helps us provide better service for the customers who shop with your website or mobile app!
And, if you want to achieve your marketing goal then HubSpot CRM is an ideal solution for small business to enterprise. 
FREE trial available. Get Started here.