Choosing the right property management software can be a challenge. There are many different options to choose from, and it is completely confusing and sometimes you might be lost. Each has its own unique features that might meet your needs. 
It's important to understand exactly what you need before selecting a software solution for your business that perfectly meets your needs. 
Here are 12 tips for choosing the best property management software.
1. Decide What You Really Need.
The first step to choosing the best property management software is to figure out what you really need. You're going to want a solution that can handle the tasks associated with managing your properties, right? 
But before jumping into this process, take some time to consider:
What are my current needs and future growth?
What do I want to achieve with this software?
How much money am I willing or able (or not) to spend on it?
Make sure that the software will meet all of your initial requirements and then ask yourself if it can provide those same features at an affordable price point.
2. Consider User Control Requirements.
User control requirements are one of the most important factors to consider when choosing property management software. It's essential to have full access rights for your users so they can do their job properly and efficiently.
What kind of user permission levels do you need? You should set up a range of permissions, including full admin rights, project manager/manager roles and basic user profiles (e.g., who has access).
How much flexibility does your business need in managing its daily operations? Do you want all employees to have full access or just certain ones? Also ask yourself how much freedom there will be for each person within that group; if someone wants more autonomy over certain processes but doesn't want responsibilities such as budgeting or payroll then maybe he or she would benefit from starting off at less capacity level with fewer responsibilities so they can gain experience before moving up into more significant positions later on down the line when appropriate time arrives (or even sooner!).
3. Match Your Scope to the Right Solution.
Before you can choose a property management system, it's important to know what kind of property you manage and the level of detail you want in your system.
Whatever type of company or property manager you are, there are certain features that will make or break the success of your endeavor:
Whether it's a single-family home or an apartment complex, having all occupants on file is essential. If someone moves out or gets evicted, they should be able to be removed from the database within minutes—not days or weeks later!
The ability to customize documents like leases and maintenance requests so they're tailored specifically for each resident who lives in one particular building should be included as well. This saves time when dealing with multiple tenants who may have different needs than others living nearby; for example: If someone has an allergy issue but doesn't want their child exposed because she might be allergic too then this would need special attention from both parties involved (the landlord/owner).
4. Ensure a Smooth Transition Process.
The transition process is an important step in choosing the best property management software. It's important to ask your vendor about their transition plan, as well as how they will help you make this process easy.
There are some things that you should look out for when choosing a vendor:
Do they have a good understanding of what will happen during this time?
Do they have experienced people who can manage the day-to-day tasks involved in running an office smoothly?
5. Consider What Kind of Support is Needed.
One of the first things to consider when choosing a property management software is what kind of support you'll need. This can be anything from technical support, training and user support to customer service.
For example, if your company has only one location and it's been operating for years on its own servers, then there may not be any reason to purchase another system. 
But if you have multiple locations or plan to add more later down the road, then finding an affordable solution that offers comprehensive support may be worth paying for in order to avoid having issues later on down the line. When those new sites open up shop!
6. Understand Your Needs.
Before you start looking for property management software, it's important to understand your needs. The best way to do this is by taking the time to think about your current situation—what systems do you have in place that work well? What would make them better? How can they be improved?
In addition to considering how things currently work, think about what kind of future goals and challenges might be present for you. 
For example, if one of your top priorities as a landlord is making sure tenants pay their rent on time every month, then having an automated system where reminders pop up when tenants are late or fail to pay could help keep things running smoothly.
7. Automatic Rent Payments and Tenant Portal.
Rent payments can be made online, which is convenient for both the landlord and tenant. This feature makes it easier to keep track of your property's finances and the status of each tenant's lease agreement.
The tenant portal is another important aspect of any good property management platform: it allows tenants to request maintenance requests and make payments in person or online. It also offers an easy way to communicate with you during the process if something goes wrong with their account (for example, if they forget their password).
Finally, some systems offer an automated rent collection feature that allows landlords to set up a recurring payment plan. So they don't have to worry about when money will come in from each individual tenant every month—allowing them more time instead!
8. Manage Maintenance Orders.
Managing the maintenance requests of tenants is a crucial aspect of running an office building, and this is where property management software shines. 
It allows you to track and manage all of your tenant's needs, from minor repairs like vacuuming or painting, to larger projects like installing new toilets or kitchen cabinets. 
You can also integrate with repair companies so that they can submit their invoices directly through the software instead of sending them through your normal mail system. And let's not forget about contractors! 
If you're not sure what kind of work needs doing on your property (or if there are multiple ways they could help), then just ask your tenants—you'll get answers quickly!
9. Applicant Screening and Online Applications.
Online applications are easy to fill out. You can see who has applied and what they have applied for, so you don't have to waste time calling them.
You can reject applicants without having to call them back or send emails, saving both time and money!
10. Automatic Vacancy Listings.
If you're looking for a property management software that will help with the vacancy listings, you should consider these options:
Real estate listing sites. Some real estate listing sites allow owners to post their properties on their websites and also provide automatic vacancy listings as well. This is an excellent way to get your properties seen by potential tenants without having to do any of the work yourself!
Property management software. There are many different types of software that can help manage rental properties, including those designed specifically for this purpose by companies such as Doorloop property management software.
11. Evaluate Software Vendors and Products.
Now that you have a good idea of what software can do, it's time to evaluate vendors and products.
Evaluate the vendor. A company that offers property management software should be able to provide a free trial period and an easy way for you to evaluate their product. They should also have a website where you can get more information about their services, including contact information for customer service representatives who will help answer any questions or address issues with the program as well as potential users who have already tried out their products in order to provide feedback on whether they meet your needs (and if not, why not?).
Evaluate each product individually based on four important factors: cost; functionality; ease-of-use; security features.
12. Key Features.
Your property management software should have the following features:
Customer interface: This is a simple matter of making sure that you can manage your properties' information easily. It's also important to choose a system that has a clean and intuitive user interface, which makes it easy for you and your employees to navigate through the program.
Data management tools: You'll want to make sure that your software has all the tools necessary for collecting and storing data on each property, including checklists, reports, marketing materials (like brochures), photos or video footage of the property itself—everything required by law when managing leased space in order from top-to-bottom so nobody gets left behind!
Reporting functionality: Your reporting needs will vary depending on what type of business you're running but having access to real-time metrics like occupancy rates or monthly rent collections could help keep costs down while still providing enough information about how well each property performs relative to its peers' performance levels."
Why is Doorloop an Ideal Property Management Software?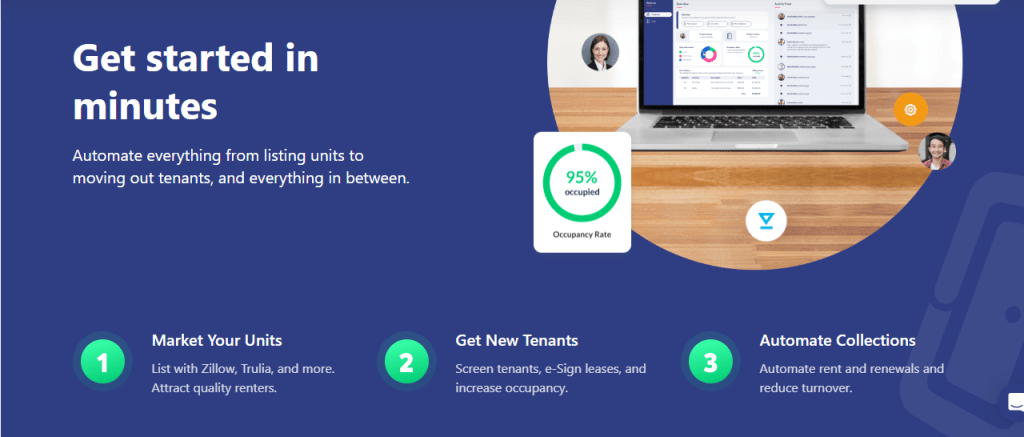 Doorloop is a cloud-based property management software that helps you manage your properties. It has a user-friendly interface and is very easy to use. The software is compatible with all types of devices including mobile phones, tablets and computers.
Doorloop provides 24/7 customer support via email, phone and chat so you can easily reach out to their team anytime of the day or night if needed. They also offer free trial periods so you can try it before subscribing to get more insights into how Doorloop works best for your business needs!
The software has a variety of features that make it easy for you to manage your properties. Some of them include: –
Property management system (PMS) 
Tenant portal 
Rental leasing software 
Online rent collection and lots more
You can make your property management management business to the next level just by integrating Doorloop CRM. It offers all you need to make your business hassle-free, functional, and faster. You can get a free  trial here. 
Conclusion
There are many property management software solutions available in the market, but not all of them are suitable for your needs. It is important to consider various factors while selecting the right software so that you can reap maximum benefits from it without any hassle.
If you are looking for a hassle-free, reliable and secured property management software then the Doorloop CRM is the best option for you. It comes all you need to manage your business smoothly. So, what are you waiting for? Sign up Doorloop and enjoy FREE trial.