Are you someone who wants to improve their writing skills? Whether you're a student, professional, or just someone who enjoys writing. The quality of your writing can greatly impact how you communicate with others. 
Fortunately, there's an AI-powered tool that can help you take your writing to the next level: Grammarly. It is a writing assistant that offers a range of features designed to help users identify and correct grammatical errors, and spelling mistakes. Even potential instances of plagiarism. 
In this blog post, we'll take a closer look at Grammarly, its key features, pros and cons, and whether it's a reliable tool for checking plagiarism. So, if you're curious about how Grammarly can improve your writing, read on!
What is Grammarly?
Grammarly is an online writing tool that helps users improve their writing by detecting and correcting grammatical errors, spelling mistakes, and punctuation errors. 
It offers a user-friendly interface and can be easily integrated into various writing platforms such as Microsoft Word, Google Docs, and Gmail.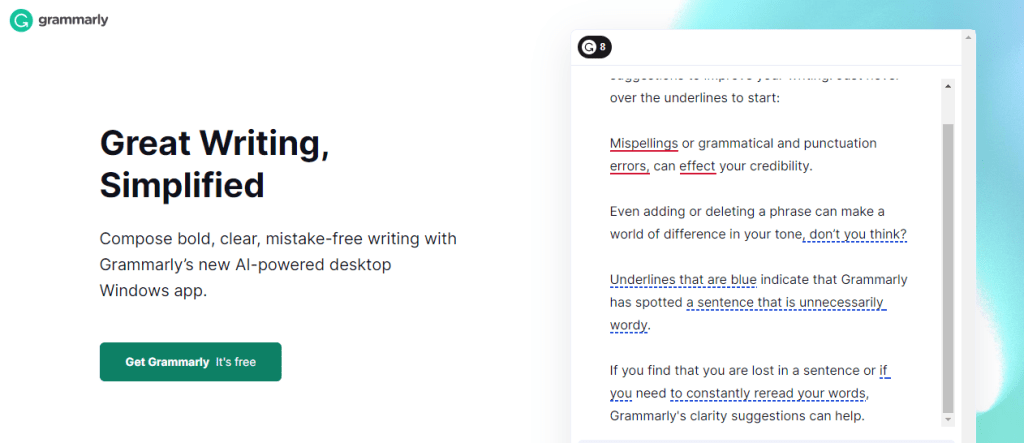 As an AI-powered writing assistant, it uses advanced algorithms to analyze text and provide suggestions for improvement. It offers a range of features, including a contextual spell checker, advanced grammar checker, and a plagiarism checker.
One of the great things about Grammarly is its ability to adapt to different writing styles and purposes. It offers various writing styles such as academic, business, and creative. It can also detect the tone of the text and offer appropriate suggestions for improvement.
Another benefit of Grammarly is its ease of use. The platform is easy to navigate, and the suggestions are presented in a clear and concise manner. 
Additionally, it offers real-time suggestions, meaning users can see the corrections as they type, which can be a real-time saver.
Key Features of Grammarly 
Grammarly is an AI-powered writing assistant that offers several key features designed to help users improve their writing skills. Here are some of the most important features:
Grammar and punctuation checker: Grammarly can identify and correct a wide range of grammatical errors, including subject-verb agreement, verb tense, sentence structure, and more. It also checks for punctuation errors such as missing commas, semicolons, and apostrophes.
Spelling checker: Grammarly has a powerful spell-checking tool that can detect and correct misspelled words and typos.
Writing style suggestions: Grammarly can provide suggestions for improving your writing style, including recommendations for sentence length, word choice, and tone.
Plagiarism checker: Grammarly can scan your writing to detect potential plagiarism and provide suggestions for citing your sources properly.
Vocabulary enhancement: Grammarly can help you expand your vocabulary by suggesting synonyms and related words that can improve the clarity and effectiveness of your writing.
Tone detection: Grammarly can identify the tone of your writing and provide suggestions to adjust it based on your intended audience or purpose.
Personalized settings: Grammarly allows users to customize their preferences, including setting the type of English (American, British, Canadian, or Australian) and choosing the level of formality (casual, neutral, or formal) to suit their needs.
Grammarly's key features are designed to help users write more effectively and efficiently, whether for personal or professional use. 
Its adaptability, ease of use, and real-time feedback make it a valuable tool for anyone looking to improve their writing skills.
Pros
Comprehensive grammar and spell-checking: It is an effective tool for identifying and correcting grammatical errors, spelling mistakes, and punctuation errors in real-time.
Easy-to-use interface: It has a user-friendly interface that is easy to navigate and integrate into different writing platforms.
Personalized writing style suggestions: It provides personalized suggestions for improving writing style, including recommendations for word choice, sentence structure, and tone.
Plagiarism checker: It's plagiarism checker is a useful feature for students and professionals who need to ensure the originality of their work.
Multi-device accessibility: It can be accessed from different devices, including desktop computers, laptops, and mobile phones, making it convenient for users to write and edit on-the-go.
Cons
Limited free version: Its free version has limited features compared to its premium version, which may not be sufficient for some users.
Over-reliance on AI: While Grammarly's AI-powered writing assistance is generally effective, it can sometimes miss nuanced errors or misunderstand the context of a sentence.
Incompatibility with some platforms: Although Grammarly can be integrated with many writing platforms, it may not work with all of them, which can be frustrating for some users.
Privacy concerns: Grammarly's privacy policy states that it collects user data to improve its product, which may be a concern for users who are particularly cautious about their online privacy.
Is Grammarly a Reliable Plagiarism Checker?
It can be a reliable tool for detecting potential instances of plagiarism in written work. However, it is important to note that no plagiarism checker is 100% accurate, and it is ultimately up to the user to ensure that their work is original and properly cited.
It compares a user's text to a vast database of published works, internet sources, and other documents to identify potential matches. If the checker detects similarities between the user's text and other sources, it will provide a report detailing the potential matches and the percentage of similarity.
While Grammarly's plagiarism checker can be a helpful tool for identifying potential plagiarism, it is not foolproof. It may not detect all instances of plagiarism, particularly if the source material is not available in its database. 
Additionally, it may flag common phrases or idioms as potential plagiarism even if they are used in a unique context.
It can be a useful tool for identifying potential plagiarism, but it should not be relied upon as the sole means of ensuring originality. 
Users should also be familiar with citation rules and best practices for avoiding plagiarism to ensure that their work is original and properly attributed.
Summary 
Despite some limitations, Grammarly is a useful tool for anyone looking to improve their writing skills, and its benefits outweigh its drawbacks. 
Its ability to provide real-time feedback and personalized suggestions makes it a valuable investment for professionals, students, and casual writers alike. Is Grammarly a reliable plagiarism checker? We hope you have found the answer.